Dr. Noam Kranz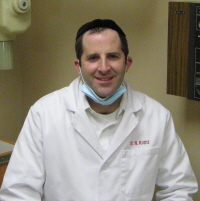 Dr. Kranz attended UMDNJ, University of Medicine and Dentistry of New Jersey.
He also completed a post-graduate residency at Columbia University focusing on cosmetic dentistry.
Committed to lifelong learning in the dental field, Dr. Kranz participates in numerous hours of continuing education programs each year, most recently focusing on Invisalign as well as cosmetic dentistry.
This advanced training allows Dr. Kranz to stay abreast of the exciting new advances in modern dentistry to give you a smile that is healthy and looks the way you always imagined it could.
From the best options in tooth replacement therapy, to easier and faster ways to straighten your teeth, you can receive virtually pain-free dental care, often in a less invasive way than ever before.
His main goal is to treat each patient with care, respect and quality dental care.
Dr. Kranz lives with his wife and five children in Passaic Park, New Jersey.